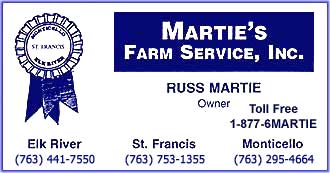 PO Box 475
Monticello, MN 55362
Phone: (763) 295-4664
Fax: (763) 295-8647
Email: info@martiesfarmservice.com

Service with a Personal Touch
Martie's Farm Service is a family owned business started in Elk River in 1982. Martie's has since opened stores in Monticello and St. Francis.
The Elk River location is where the feed is manufactured to supply all 3 locations.
Customer satisfaction is very important to us and all the employees at Martie's will do their very best to provide service with a personal touch.
Elk River
345 Jackson
M-F 8:00 - 5:30
Sat 8:00 - 12:00
Sherburne County
Monticello
100 Dundas Rd
M-F 8:00 - 5:30
Sat 8:00 - 12:00
Wright County
St. Francis
3950 227th Ave N.
M-F 8:00 - 5:30
Sat 8:00 - 12:00
Anoka County